GO Topeka Update – February 2016
GO Topeka Unveils A New Financial Tool to Help Small Businesses
GO Topeka unveiled a second tool that will provide financial support to small businesses.
The Topeka/Shawnee County Small Business Incentive
is a matching incentive program that offers small businesses assistance in the areas of employee skills advancement, equipment purchases and facility construction and renovation.   The incentives are rapidly becoming popular as businesses gear up to meet the needs of their customers. 
Click here for more detail
GO Topeka also manages the Topeka/Shawnee County First Opportunity Fund
(TSCFOF), a Community Development Financial institution (CDFI).  The TSCFOF provides direct loans or lines of credit to small businesses throughout Shawnee County.   Funds can be used for working capital, purchasing inventory or equipment or new construction or lease hold improvements.  Loan rates are reasonable; terms are up to five years.  Together these two financial tools will work to fill the financing gaps for Shawnee County's small businesses. Click
here
for more information about the First Opportunity Fund.
For more information about these programs, please contact Glenda Washington at 785-231-6048 or by email at
gwashington@gotopeka.com
.
New Business Projects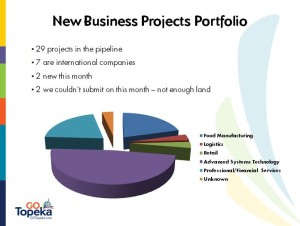 There are currently 29 projects in the New Business Projects portfolio. The majority of the projects are from the Advanced Systems Technology industry as you can see from the image above. 7 of these projects are from international companies. Of the 29 projects that are currently in the pipeline there are 2 that are new this month. Not included in the 29 projects that were mentioned above there were 2 projects that we were not able to submit on because we do not have enough land. One requested 800 acres and the other project requested 200 acres with an additional 300 acres for a future expansion; they both needed utilities and rail access as well.
Welcome to New Board Members
To see a full listing of board members, click here.
Did You Know… Workforce
Did you know that Topeka/Shawnee County has its very own Workforce Development One-Stop Center, for your hiring needs as employers and your career needs as potential employees?  The One-Stop Center is also known as the Topeka Workforce Center, KANSASWORKS, Heartland Works and the Kansas Department of Commerce Workforce Services.  Generally, customers do not know which organization they are working with as they brand as the workforce development "one stop center."  They are one of the state's best kept secrets and are located at 1430 SW Topeka Boulevard.
The Workforce Center isn't just for job seekers.  As an employer, they have the broadest selection of diverse applicants at no cost to you.  They help all talent and skill levels, from entry-level to advanced professionals.  Their website holds résumés of an available talent pool to meet your hiring needs for numerous positions and it is available for your company to utilize to post jobs openings.  They have educational training grants, WorkReady certification, virtual technology for remote interviews you may wish to conduct, and customized workshops to meet your employment needs; all with certified and credentialed staff to support your most stringent requirements for placement.  The team is trained to help you find and recruit the talent you need to grow your business.
The Workforce Center isn't just for employers. There's a wealth of resources available to you as a job seekers as well.  From current trends on résumé and cover letters, mock interviews, assistance with career planning, to exclusive hiring events, veteran services and internet access;  Basically there is something for everyone exactly where you're at in your career path.
Lean Six Sigma and the Small Business Scholarship
Another opportunity to register for an upcoming Lean Six Sigma: Yellow Belt class, March 3-4, offered through Washburn's Center for Organizational Excellence. Washburn University and GO Topeka have partnered to offer financial assistance with Lean Six Sigma classes in the form of a Small Business Scholarship to non-profits (501c3 or 501c6) or small businesses who have participated in the Entrepreneurial and Minority Business Development (EMBD) program. The support is intended for organizations of approximately twenty(20) employees or less. The financial assistance is a shared cost between the applicant, GO Topeka, and Washburn University with each entity contributing a third of the regular course fee. For more information regarding the scholarship click here or call 785.670.1399.  And for more information regarding the upcoming Yellow Belt class, click here.
Events
GO Topeka's Entrepreneurial & Minority Business Development department always has something going on. Click
here
to download the calendar of events for February – May of this year!
The next classes are the FastTrac NewVenture that starts March 1. We also will be having a FastTrac GrowthVenture and more Blue Ribbon Academy Lunch & Learns similar to the one pictured below! To see a full listing of the events and to register, visit the calendar on our website.
We also want your participation. The window to nominate businesses for Small Business Awards is here. Go here to download the nomination form. Nominations are due March 11, 2016.
Entertainment Survey
Washburn University Marketing Research students have requested our help to take a survey to help them better understand Topeka's entertainment preferences. You can take the survey here. See the full details in the press release here.
Social Media
Did you know that GO Topeka has seven social media accounts? Make sure that you follow us on all of them! Once you follow us, make sure that you start sharing our posts with your friends and followers.

Matt is the resident social media guru and website guy, working on the marketing and communications team. He supports GO Topeka, the Topeka Chamber of Commerce, Entrepreneurial & Minority Business Development, Forge and Heartland Visioning.

Latest posts by Matt Lara (see all)