GO Topeka Update – January 2016
2016 Small Business Awards – Save the Date
The 2016 S
mall Business Awards Luncheon is coming up soon! Make sure to get it on your calendar; May 10, 2016 from 12 – 1:30pm. Start thinking about who you want to nominate we will be asking for your nominations soon.To secure your seats or table at this years Small Business Awards, register here.
New Business Attraction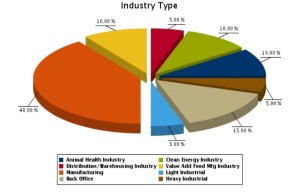 The chart shows a breakout of the projects that we received in 2015 by industry type. The majority of the projects that came in were from the manufacturing industry followed by back office, and then food manufacturing, animal health industry and clean energy industry. GO Topeka is starting off this year strong with 29 active projects in the pipeline and 2 of those are new this month.
2015 was a successful year for Topeka/Shawnee County. A total of 266 new jobs were created for the community with a capital investment of $165,800,000! There were expansions in the food processing industry with Big Heart Pet Brands and Mars Chocolate North America, as well as an expansion in the professional and financial sector with FHLB. The advanced systems technology industry also grew by one company, Koch & Co., opened a location in Shawnee County as well as there being an expansion completed by R & R Pallet, Inc.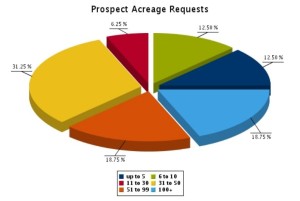 The chart on the right shows the acreage that was requested from the projects in 2015. 31% of the projects requested 31 to 50 acres, 18.75% indicated a need for 51 to 99 acres and another 18.75% requested 100+ acres. Larger acreage requests are the current standard in project requests.
Are you hiring?
Are you expanding and growing your workforce or hosting a hiring event? Let GO Topeka know, we can share your job details, links or flyers via our social media channels to share the information and gain more reach for your hiring needs.
Events
EMBD is starting the year off right! Make sure to visit
gotopeka.com/events
to see all the events that are scheduled.
Individuals wishing to start a business or those in the first year of business should consider registering for the FastTrac NewVenture. For those more experienced entrepreneurs in a growth mode, wishing to take their company to the next level, join the FastTrac GrowthVenture class.
Need a little guidance on effectively marketing your business? Join three dynamic local experts for the Blue Ribbon Academy Lunch & Learns.  For tips on Marketing to Millennials, Knowing Your Brand and Effective Marketing using Social Media.  These Lunch and Learns are being presented by: Martha Bartlett-Piland, Kerrice Mapes, and Alissa Menke.  Hear from the experts, register Now!
Lean Six Sigma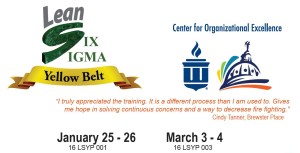 The Yellow Belt Lean Six Sigma class for January has already passed but you can still get signed up for the class in March. Call 785.670.1399 or go to www.washburn.edu/coe for more info.
Social Media
Social media is becoming increasingly important in our marketing efforts. Make sure that you follow us on our social media platforms!
GO Topeka Facebook, Twitter, LinkedIn and YouTube.
Topeka Entrepreneurs Facebook, Twitter and LinkedIn.

Matt is the resident social media guru and website guy, working on the marketing and communications team. He supports GO Topeka, the Topeka Chamber of Commerce, Entrepreneurial & Minority Business Development, Forge and Heartland Visioning.

Latest posts by Matt Lara (see all)