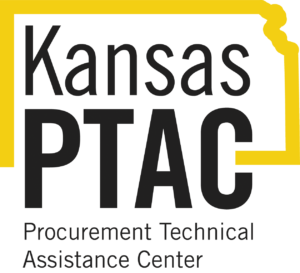 Kansas PTAC is ready to help your business secure government contracts. We provide individualized counseling and informative training seminars about timely contracting issues and the latest guidelines to help you learn how the procurement system can work for you. We assist in developing a government marketing strategy and identifying agencies that purchase your product/service.
We can help find government advertised bidding opportunities using our web-based bid-matching service that searches more than 2,000 federal, state and local sites each day. Our counselors provide expertise in reading and understanding government solicitations, completing government registrations and bid preparation by explaining forms, regulations and clauses.
To apply to be a Kansas PTAC client, read the guidelines below then apply here.
Mission
Kansas Procurement Technical Assistance Center's (PTAC) mission is to assist viable businesses located in the State of Kansas with potential market expansion through procurement opportunities with the government which enhances local economies.
Kansas PTAC Services
Marketing products/services to the government
Training seminars
Identify product/service codes
Understand laws and regulations
Government registration and certifications
Notices of contracting information/changes
Socioeconomic programs
Bid/quote/proposal preparation
Understand specifications, standards, and procurement histories/National Stock Numbers (NSNs)
One-on-one counseling
Bid notification services
Guidelines for Becoming a Kansas PTAC Client
Meet Federal responsible contractor standards

Adequate financial resources*
Comply with delivery/performance schedule
Satisfactory performance record
Satisfactory record of integrity/ethics
Organization, experience, accounting and operational controls, technical skills*
Production, construction and technical equipment and facilities*

Sell products/services purchased by the government
Not on Excluded (Debarred) list
In business for at least one year
Person available to devote time to government contracting
Know your pricing
Computer with connectivity to the internet
Email
Business plan
Marketing plan
5 or more employees
*or ability to obtain
Disclaimer: Provided in part by a sub-award through Wichita State University (funded in part through a cooperative agreement with the Defense Logistics Agency).