Every attempt has been made to provide current, accurate, and consistent data in this database. There may be some differences due to sources, methodologies, or timing of data-assembly.
October 2019 Labor Report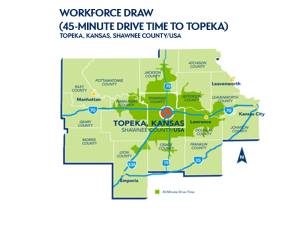 TOPEKA, Kan. – Preliminary estimates reported by the Kansas Department of Labor (KDOL) and the Bureau of Labor Statistics (BLS) show a seasonally adjusted unemployment rate of 3.2 percent in December. This was an increase from 3.1 percent in November and a decrease from 3.3 percent in December 2018.
"Kansas maintained a low unemployment rate in December, edging up to 3.2 percent following the 40 year low of 3.1 percent in October and November," said Secretary Delía García.
Seasonally adjusted job estimates indicate total Kansas nonfarm jobs increased by 3,400 from November. Private sector jobs, a subset of total nonfarm jobs, increased by 3,600 from the previous month.
"Kansas ended 2019 with job growth, adding 3,400 nonfarm jobs in December," said Labor Economist, Emilie Doerksen. "This increase was due to growth in the private sector, led by the health care and social assistance industry which added 1,000 jobs."
Since December 2018, Kansas gained 20,100 seasonally adjusted total nonfarm jobs and 15,300 private sector jobs.
BLS revised preliminary seasonally adjusted estimates for November. Revisions to detailed industry estimates resulted in no change to total nonfarm jobs and private sector jobs at 1,440,000 and 1,176,900.
Complete Kansas labor market information for December is available here.